Palma Coliving has become one of the best nomad coliving spaces in Spain, attracting digital nomads from all over the globe. With strategic locations, you will find the perfect mix between sunny beaches, vibrant cultures, and affordable cost of living. Palma Coliving has been selected as a finalist of the "Best Nomad Coliving" for 2 years in a road in the Coliving Awards.
These are the reasons why Palma Coliving has such good references and is highly recommended among digital nomads:
Location, Location, Location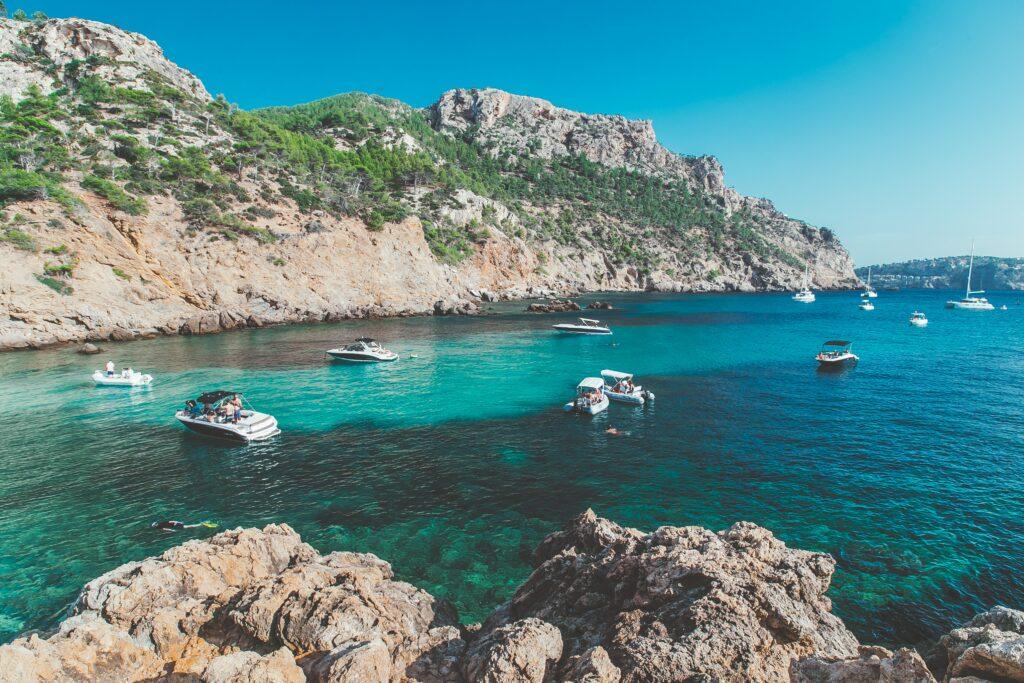 Palma Coliving is located in different sunny locations, next to the sea and nature, where our guests can find balance and time pursuing their professional goals and also grow as human beings.
Palma de Mallorca coliving
Palma de Mallorca is a stunningly beautiful island in the Mediterranean Sea, and Palma Coliving is situated right in the heart of the island. The coliving space is just minutes away from the port, the historic city center, and plenty of bars and restaurants. The location is perfect for digital nomads who want to work during the day and explore the city in their free time.
Palma de Mallorca has become one of the most sought-after places to live in Spain. Here are some reasons why:
Beautiful Weather: Palma de Mallorca boasts an average of 300 sunny days per year, making it an ideal place to enjoy the outdoors and explore the island's stunning natural beauty.
Beaches: Palma de Mallorca is home to some of the most beautiful beaches in the world. From white sand beaches to secluded coves, there is a beach for everyone in Palma de Mallorca.
Culture: is steeped in history and culture, with plenty of museums, art galleries, and historic landmarks to explore.
Food: the island has a fantastic food scene, with plenty of local restaurants serving up fresh seafood, traditional Spanish cuisine, and international flavors.
Nightlife: Palma de Mallorca has a lively nightlife scene, with plenty of bars and clubs to choose from.
If you want to get more information about the Mallorca experience, here is "7 Reasons Why Mallorca is the Best Destination for Digital Nomads". You can explore our beautiful Villa Armadans coliving in Mallorca here and apply for your next stay here.
Barcelona coliving
Barcelona, with its rich history, vibrant culture, and stunning architecture, is a city that captures the hearts of millions of visitors each year. Palma Coliving in Barcelona offers a unique opportunity to live, work, and connect with like-minded individuals, unlocking the key to making the most of your time in this captivating city. Here you will find the perfect mix of city vibes and nature, culture and beach, nightlife and work, mountain and sea. These are some characteristics that make Barcelona a unique destination for remote workers:
Wheater: Sunny locations with warm weather all year long.
Community: The nomad community here is pretty big, you will find plenty of activities, accommodations options, and more!
Connections: Big airport that connects you to the whole world.
Beaches: Paradise-like beaches are very close, just a few train stops away from the city.
Culture: An open-minded city with a unique mix of cultures and no language barriers.
Comfort: A pretty small city with walkable distances.
Remote working friendly: Plenty of coworking spaces and nice coffee shops to work from.
Background: Rich history is everywhere you look.
If you are a digital nomad and you are coming soon to Barcelona, this article could be very useful to you. We present you the "Barcelona Digital Nomad's Unbeatable Guide" where you will find all the important information you need to know before arriving in the city.
Check our out luxurious and gigantic 3200m2 "Casa Turull" coliving space in Barcelona. You can apply for your stay in this breathtaking city by clicking here.
Valencia coliving
If you're a digital nomad and you're wondering about your future destination for your next mid-long-term stay, I am confident that you'll find almost all you need in Valencia to live inspiring experiences. More than 10,000 expats participated in the survey which analyzed cities around the globe during pre-Covid times, and they named Valencia the best city to live in.
Here are the reasons why:
A complete city: Amazing city, surrounded by beautiful beaches and mountains. A lovely historical center, a Modernist project in the City of Arts and Sciences, and a rich history.
The outdoors: Lots of parks and green areas or public parks to do sports or relax.
Remote working friendly: Tons of coworking spaces.
More convenient: Cheaper cost of living compared to other important European cities.
Endless possibilities: Valencia is the 3rd largest city in Spain, which means you will have lots of possibilities regarding jobs, mobility, events, concerts, and more.
Beaches: Many beautiful beaches near the city center.
Easy and smooth traffic: Good public transportation and short distances in general.
Check out our brand new coliving space in Valencia opening on mid. December 2023!!! Click here to discover the property!
Amazing digital nomad community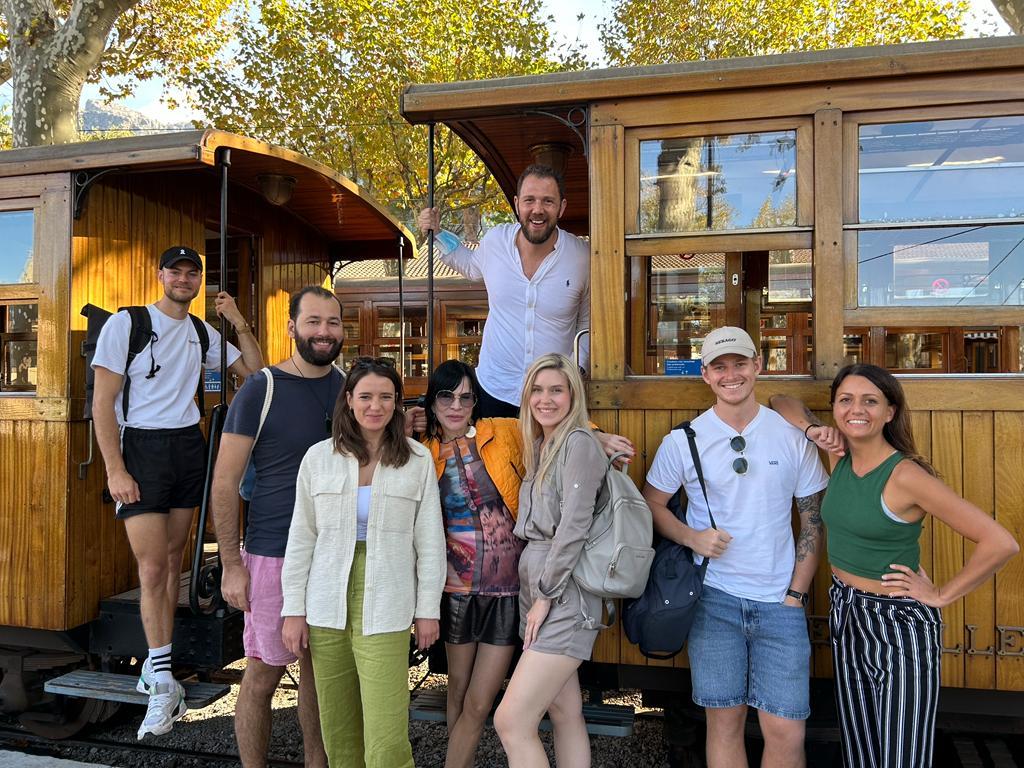 Palma Coliving has a thriving community of digital nomads from all over the world. The community is welcoming, supportive, and inclusive. Digital nomads who stay at Palma Coliving often form lasting connections with other members of the community, making it easy to build new friendships and professional relationships.
Seleccion process – picking the best like-minded individuals
Do you imagine coming to a coliving and having a vibrant community and friends from the very first time? Now you can! At Palma Coliving, unlike other companies, we have a guest selection process. This means you can't just go to the website and book your room, you have to apply. This is because we focus on selecting individuals who share the same values ​​and interests in life. Another important fact is that we have a 1-month minimum stay policy: we want to create a sense of family in every location. Every month we select between 10 to 15 like-minded individuals who come to our coliving to work & live and connect with the rest of the community. It focuses on digital nomads, remote workers, and travel lovers who want to evolve, grow personally, make deep connections, embrace a new culture, be healthy, and enjoy the outdoors and explore.
Happiness Officer – will help you to have the best experience possible!
Our Happiness Officer will always make the best weekly plans for our guests to enjoy, and recommend the best places in town so all colivers can get to know Palma like a local. The Happiness Officer's role is to maintain the house in perfect condition and make sure all needs of our guests are taken care of. She will also put the guests in contact with other members of the Digital Nomad community in each location.
Our weekly activities are:
Yoga classes twice a week
Tapas night twice a month
Digital nomad meet-up once a week
Digital nomad BBQ once a month
Community session every Monday
Family dinner every Friday
Amenities that meet the highest standards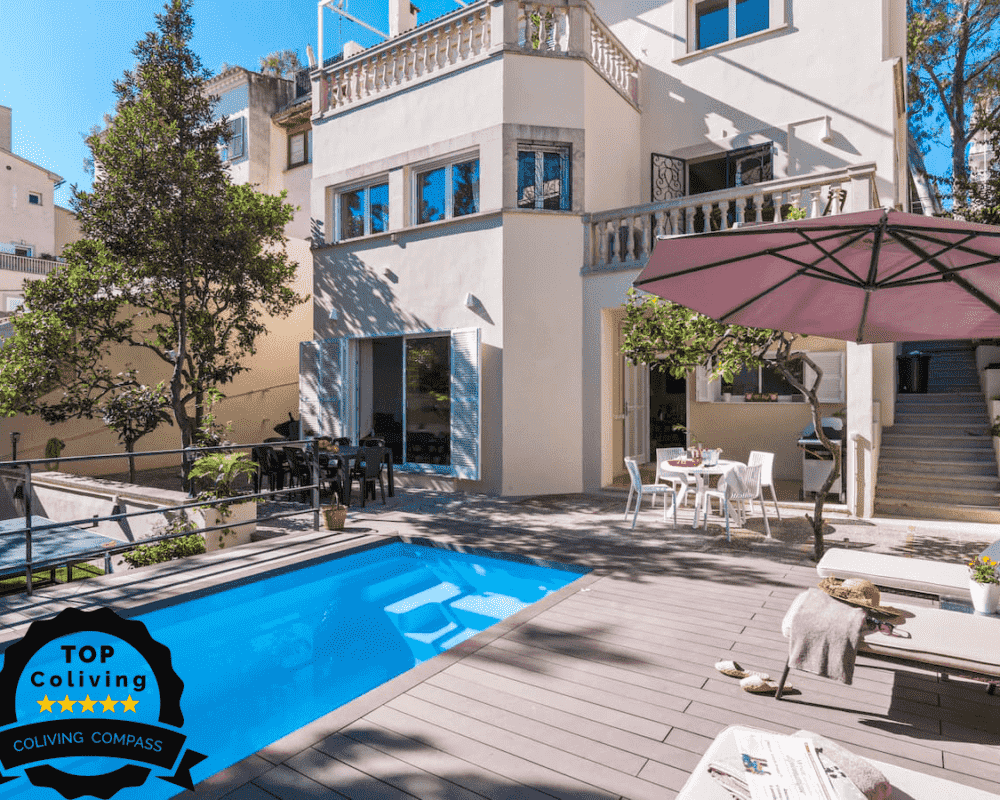 Palma Coliving has a wide range of amenities that make it an ideal place to live and work remotely. The coliving space has high-speed internet, comfortable workspaces, and plenty of communal areas where digital nomads can socialize, relax, and work together. There's also a gym space, a pool, and a rooftop terrace with stunning views of the city.
You will feel at home in our beautiful coliving spaces, and enjoy the group activities as well as your personal space and privacy.
Palma Coliving's amenities include:
Coworking area
Kitchen
Living room
Garden
Pool
Ping-Pong table
Gym space
Terrace
BBQ areas
Private conference rooms
The opinion and support of our guests proves it
More than 50 5-star Google Reviews fill us with pride! We are happy to share our love for the digital nomad lifestyle and we work every day to make our guests' experience even more complete and positive. Our mission is to impact remote workers, inspire them to be more productive, and help them to accomplish their goals. All while discovering the local culture of their chosen destination.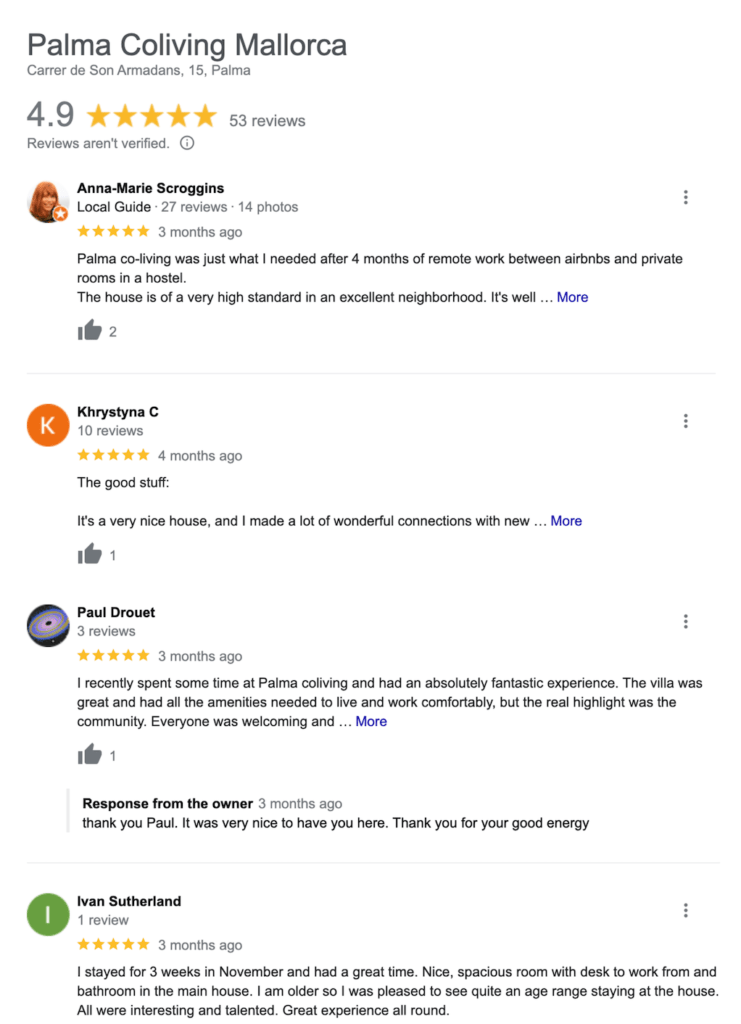 Best Nomad Coliving
For the second year in a road, Palma Coliving has been selected as a finalist of the Coliving Awards edition "Nomad Coliving". We are happy to see the recognition and support from other colleagues and to be seen as a part of the nomad community in Spain. This recognition motivates us to keep on working harder to expand and create new spaces where people can experience Palma Coliving.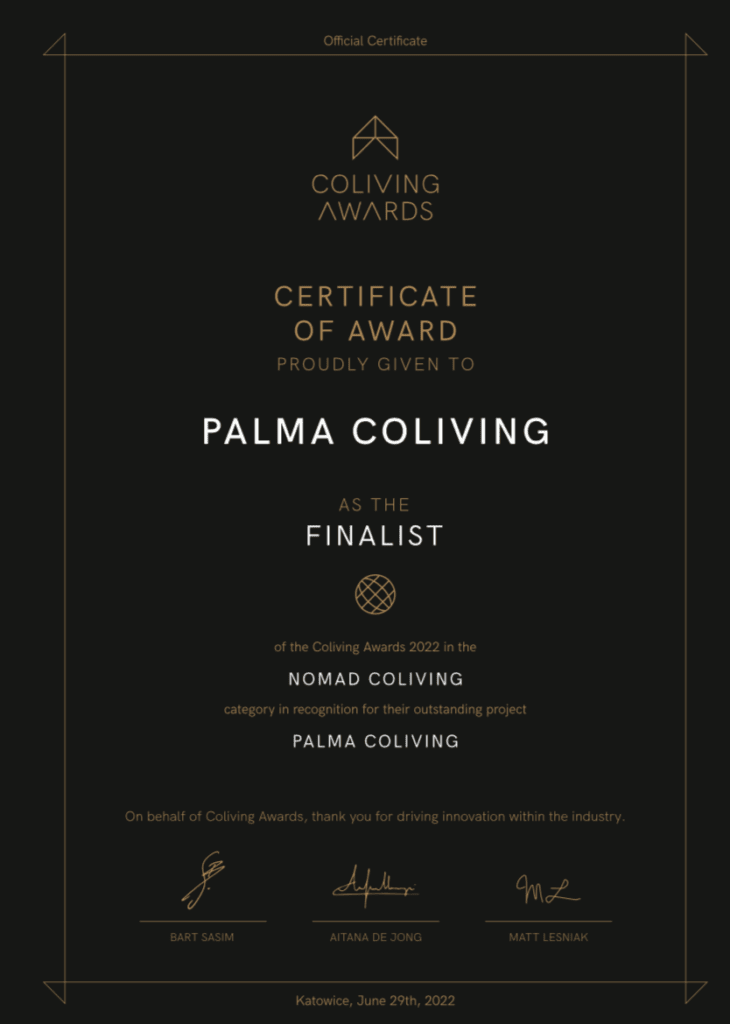 Overall, Palma Coliving has become one of the best nomad coliving spaces in Spain because of its incredible location, supportive community, fantastic amenities, and more. If you're a digital nomad looking for a place to live and work remotely, Palma Coliving should be at the top of your list. You might also like to read "Best Coliving in Europe" to find your next destination!
Thank you for reading so far and remember to follow us on social media to get weekly valuable content
Instagram | LinkedIn | Spotify | Facebook | TikTok | Youtube
---
Latest Posts: