Hey there! Are you ready to embark on an unforgettable journey through Europe and wondering where to find the best coliving experience on the continent? Look no further! Whether you're a digital nomad, an adventurer, or someone simply seeking a unique way to explore the continent: at Palma Coliving we have you covered! Here is our selection of the best coliving spaces that will make you feel right at home:

Best Coliving in Portugal:
There is no doubt why Portugal is one of the favorite destinations for digital nomads. The weather is sunny, the cost of living is very affordable and, although their official language is Portuguese, they speak very good English and that guarantees good communication and many possibilities to establish deep connections with the locals. On top of that, you will find breathtaking beaches, landscapes, charming cities, and some of the best surf spots in the world. If you are a digital nomad, you will be shocked by how welcoming this country is towards our community! You can even get a digital nomad visa so stay there.

Sustainable Coliving in Lisbon
This beautiful coliving will give you the opportunity to work and enjoy in a pleasant environment. Cool fact! This is the first sustainable coliving space in Lisbon, located in the Belem area. What makes it unique? It promotes connections between guests and local non-profit organizations to increase awareness of the impact of the environment and prioritize eco-conscious living. You will have access to the greenery garden, and outdoor space to work, relax or enjoy a communal gathering with the rest of the colivers!
Coliving.com rate: 4.9 stars!

Karma Coliving- Yoga & Surf Retreats
If you look to be in contact with nature and connect with yourself, this place is perfect for you! You will find the most beautiful and inspiring coworking space, with big windows facing the ocean. With hot desks and printers, ergonomic chairs, and more. If you need a break, there is also a meditation & yoga deck, onsite rock climbing, and a pool area with hammocks, a jacuzzi, and a sauna. What else could you possibly ask for? It's a dream! There's a shared kitchen that you can use if you like to cook, but there's also a vegan chef on standby that you can order food from.
Google Reviews rate: 4.9 stars!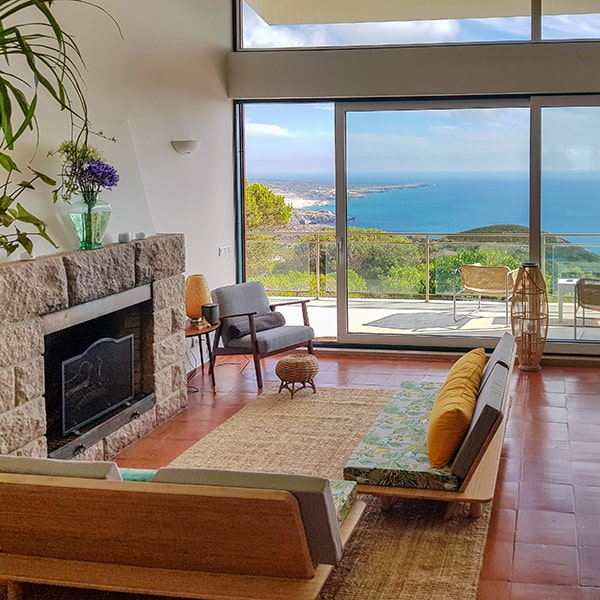 Best Coliving in Berlin
Berlin is a fantastic destination for digital nomads seeking a coliving experience for several compelling reasons. It has a thriving tech and startup ecosystem, making it an ideal destination for digital nomads working in tech-related fields. The city is home to numerous co-working spaces and networking events, providing ample opportunities to connect with like-minded professionals. Berlin is a melting pot of cultures, offering a rich and diverse cultural experience. Whether you're into art, music, history, or contemporary culture, Berlin has something to offer everyone, fostering creativity and inspiration. This city is known for its high quality of life, it offers excellent public transportation, a rich culinary scene, and a strong emphasis on work-life balance, creating an environment conducive to both work and relaxation.

Happy Pigeons Coliving
If you are looking for a community-driven coliving, this coliving is perfect for you! It's an independent project for those who are looking to feel close and part of a group and get to know people of different backgrounds. You will find unfurnished and furnished rooms for couples or solo travelers. The only thing to consider: their minimum rental period is 3 months.
Google Reviews rate: 4.9 stars!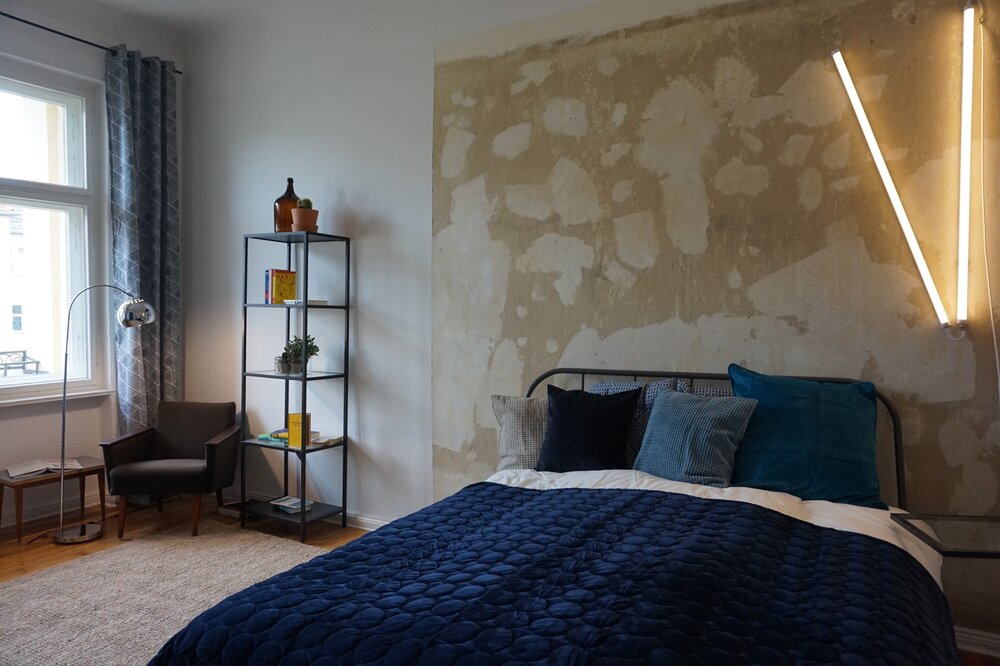 Best Coliving in Croatia
Croatia is an increasingly popular destination for digital nomads seeking a coliving experience. The Mediterranean climate in Croatia means mild winters and warm, sunny summers. This pleasant weather encourages outdoor activities and a balanced work-life routine. This country offers a relatively affordable cost of living compared to many Western European countries. Accommodation, food, and transportation costs are often budget-friendly, allowing digital nomads to enjoy a high quality of life without breaking the bank. Croatia boasts stunning coastal landscapes along the Adriatic Sea, making it a haven for nature lovers. Coliving spaces located near the coast provide a serene backdrop for work and relaxation, with crystal-clear waters, lush islands, and picturesque beaches just a stone's throw away. Croatia offers a relaxed and laid-back pace of life, which can be conducive to focused work and a stress-free lifestyle. It's an excellent place to find a balance between work and leisure.

Doma Aparthotel, Zagreb
Located 1969 feet from the Archaeological Museum Zagreb in Zagreb, Doma Zagreb Aparthotel provides accommodations with air conditioning and free WiFi. The units have parquet floors and include a seating area with a satellite flat-screen TV, a fully equipped kitchenette with a dining area, and a private bathroom. There are many popular points of interest near the apartment including King Tomislav Square, Zagreb Cathedral, and Cvjetni Square. This is their guests' favorite part of Zagreb, according to independent reviews. Couples in particular like the location – they rated it 9.5 for a two-person trip.
Google Reviews rate: 4.5 stars!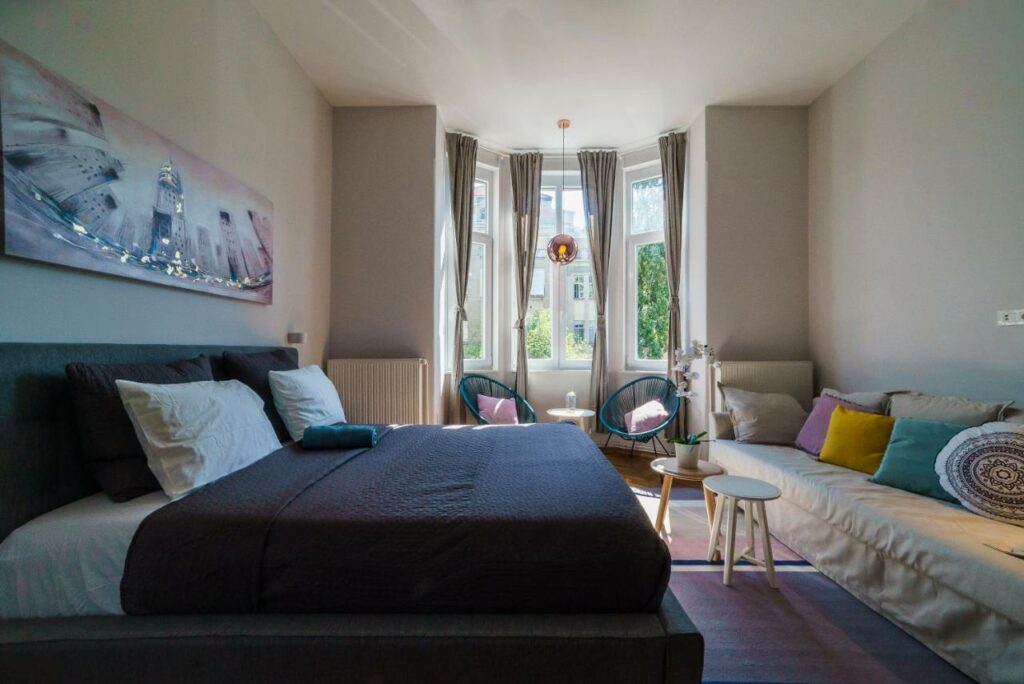 Best Coliving in France
France is renowned for its rich cultural heritage. As a digital nomad, you'll have the opportunity to immerse yourself in world-class art, architecture, history, and cuisine. Iconic landmarks like the Eiffel Tower, the Louvre Museum, and historic villages provide endless opportunities for exploration and inspiration. France is a culinary paradise, known for its exquisite food and wine. From the bustling food markets of Paris to the vineyards of Bordeaux, you'll have the chance to savor some of the world's finest cuisine and beverages. Language can be a challenge, but also an opportunity! If you've ever wanted to learn or improve your French language skills, France is the perfect place. Coliving in a French-speaking environment can be an immersive language learning experience, which can be professionally and personally enriching.

Chateau Coliving
Located in an actual 12th-century castle in France (yes, that's right!), Chateau Coliving is one of the most charming coliving spaces out there. So… basically the coliving is A CATLE, what else can you ask for? The castle itself is located in the middle of a very large park on a property that turns into an island in winter! With a dedicated coworking space and community events, Chateau Coliving is the perfect spot for digital nomads looking for a unique shared living experience.
Google Reviews rate: 4.8 stars!

Best Coliving in Spain
Spain offers diverse locations that cater to different tastes. From the serene beaches of Mallorca to the bustling streets of Barcelona and the lively atmosphere of Valencia, Spain provides a variety of environments to choose from. enjoys a pleasant Mediterranean climate with mild winters and warm, sunny summers. This climate encourages outdoor activities and a balanced work-life routine. Spain is known for its affordability compared to other Western European countries. The cost of living, including accommodation, food, and transportation, can be relatively budget-friendly, allowing you to enjoy a high quality of life without straining your finances. Spain has a thriving expat and digital nomad community. You'll have the chance to network, attend meetups, and build connections with like-minded individuals from around the world.

Palma Coliving, Barcelona
Palma Coliving has been nominated for the second consecutive year as one of the best coliving in the Nomad category (2023)! At Palma Coliving you will meet like-minded people, escape your routine & boost your productivity! It is dedicated to digital nomads, remote workers, and freelancers: this community fosters environmental sustainability, personal well-being, and authentic connection. You will be surrounded by a tribe with a positive mindset with whom you will connect.
"Casa Turull" by Palma Coliving is an oasis in the city, located in El Coll, an exclusive residential neighborhood nearby Gracia, considered one of the best places to visit and live to feel the true local culture and way of life of Barcelona! This premium location gives you the opportunity to work from a chill place surrounded by nature while having all the best of Barcelona City just 10 minutes away. The house is right next to Park Güell, where you can see and enjoy one of the most beautiful Gaudí architectural works. This coliving and coworking Catalan Villa is spacious with high ceilings, large windows, terraces & a gigantic 2600M2 private garden with a wonderful swimming pool. We also have a vegetable garden & couple of BBQ areas to enjoy the best outdoor plans during your stay. Enjoy our optic fiber high-speed wifi and wind down comfortably in your bedroom or our communal lounge spaces with our hot desks & ergonomic chairs.
Palma coliving only hosts around 10 to 15 residents per month. Each week you are invited to join an array of activities planned with the utmost love by our team and local partners. You'll have the opportunity to meet other members of our community and escape your routine. Activities included during your stay: community sessions, yoga or meditation sessions, networking events, tapas night, amongst others. We can also organize fitness sessions, cooking diners, volleyball, hiking, diving, city promenade…
Google Reviews rate: 5 stars!

Palma Coliving, Mallorca
If you are not looking to stay in a big city, maybe a paradisical island is a better plan for you! Palma de Mallorca has a lot to offer (not only its beautiful and crystal-clear beaches).
Villa Armadans by Palma coliving is located in "one of the best places to live in the world", in the Balearic Islands: Palma de Mallorca! Palma Coliving and coworking Villa is spacious with high ceilings, large windows, private terraces & a wonderful garden with a swimming pool. Enjoy the optic fiber high-speed wifi and wind down comfortably in your bedroom or our communal lounge spaces with our hot desks & ergonomic chairs + meeting room. Palma coliving offer private bedrooms with private or shared bathroom. The minimum stay is for 1 month, to guarantee the best experience ever for all the guests.
The location is great! You have lots of places to eat and have a coffee around the house, the port is just a few blocks away. And if you want a little bit of nightlife, the Santa Catalina district is just 15 minutes walking from the Coliving. There you will find tons of bars to have a drink and dance!
Google Reviews rate: 4.9 stars!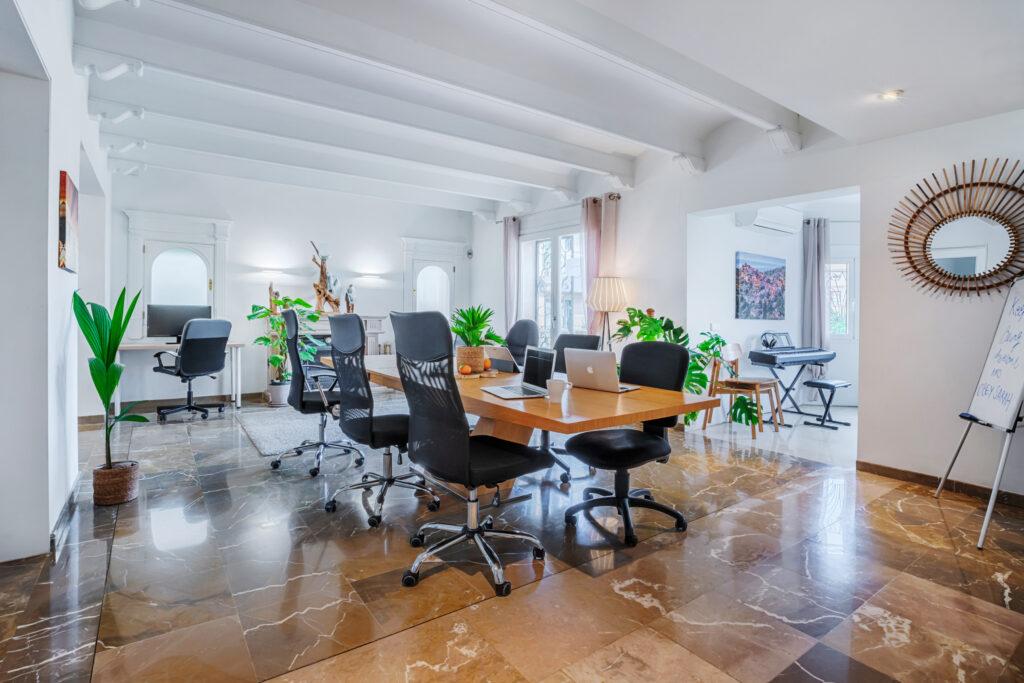 We hope you enjoyed our selection for Best Coliving in Europe and you are ready now to book your next flight and immerse into your next adventure as a digital nomad! Whether you want to live in a big city like Berlin or Barcelona, or you prefer to be in contact with nature in small cities, Europe is always a good place to go and explore!

We hope to see you soon at one of our destinations!
Thank you for reading so far and remember to follow us on social media to get weekly valuable content:
Instagram | LinkedIn | Spotify | Facebook | TikTok | Youtube
---
Latest Posts: