October is a sweet spot for Barcelona. The city's not too hot, not too crowded, just right. Whether you love history, food, or simply chilling by the beach, Barcelona's got your back. In this article, Palma Coliving will be your October buddy, showing you the coolest stuff to do in Barcelona this month. From local fiestas to film festivals, we've got you covered! So, grab your shades, and let's dive into Barcelona's October vibes!
What's the Weather Like in October?
October is one of the best months to come visit Barcelona. Is not too shabby, with an average high of 23 degrees Celsius by day, and an average low of 17 degrees by night. You just need to bring a light jacket and you are ready to go explore! You will have the opportunity to do lots of outdoor plans and walk around the city, not being suffocated by the high temperatures of summer.
Cool city, cool music!
Barcelona is one of the most important cities in Spain, so when it comes to international music and concerts, it is a MUST-STOP for every band. In Barcelona, you will get the best live concerts, but our recommendation is to buy your tickets in advance because usually they sell out pretty fast.
Concerts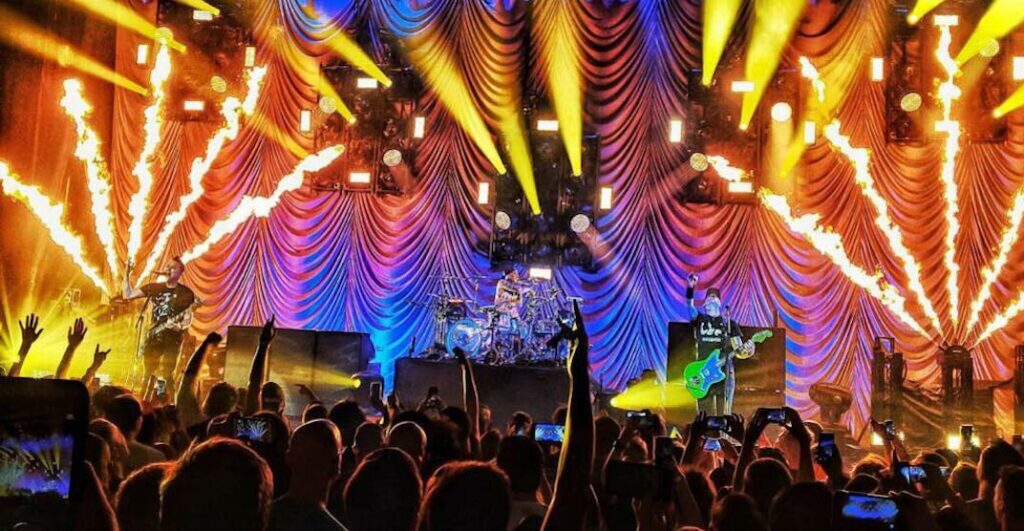 Free tours, 48hs Open House Barcelona
Barcelona is one of the cities with the most impressive architecture. Once you arrive in the city you can't help to stroll through the streets and amaze yourself with the facades of every building (but it's even better to see these places from the inside). If you're in the city the last weekend of October you can do it for free thanks to the Barcelona Architecture Festival.
This annual event gives the public free access to over 200 of the city's architecturally, culturally, and historically significant buildings, dwellings, and places. A broad range of sights are participating and you can see styles from Neoclassic, Modernist, and Gothic-style buildings.
The access is free, and you will get to learn from experts the secrets and wonders of Catalan architecture.
In general, no prior registration is required, although I advise you to check the program beforehand to know the opening hours and how to get to each site.
Open House Barcelona is on October 21st and 22nd. Many locations offer guided tours.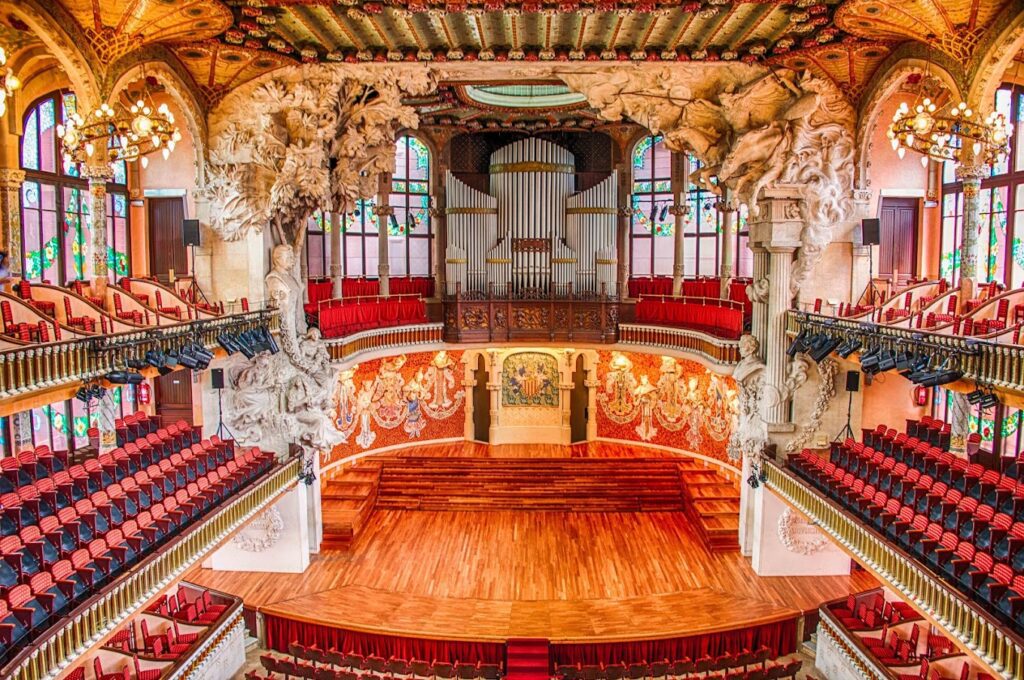 Mercat de Mercats

Every year, the city hosts the lively Mercat de Mercats (Market of Markets), a three-day extravaganza that's an absolute treat for food and wine enthusiasts. This event may be a trade fair on paper, but it feels more like a festive celebration.
Imagine wandering from stall to stall, indulging in delectable bites of tapas, sipping on fine wines, savoring local beers, nibbling on artisan cheeses, and satisfying your sweet tooth with mouthwatering desserts. It's a foodie's paradise where flavors from all around the region converge.
The best part? Admission is absolutely free, giving you the perfect excuse to explore and taste to your heart's content. Just remember that while entry is on the house, you'll need to purchase those tempting samples that are sure to delight your taste buds. So, get ready to join the culinary party at Mercat de Mercats and let your taste buds embark on a delicious adventure.
Where to go? This major festival takes place on the Plaça de les Glòries, you can get more information on their official website.
Oktoberfest in Barcelona
You don't need to hop on a plane to Germany to savor the essence of Oktoberfest; Barcelona has its very own rendition of this traditional festival, and the best part is, that entry is absolutely free!
This lively event unfolds within a sprawling 6,000-square-meter tent, creating an authentic Bavarian atmosphere right in the heart of Barcelona. Expect to be serenaded by live Bavarian tunes while indulging in the rich flavors of German beer (available for purchase) that are sure to transport your taste buds to the heart of Munich.
Mark your calendar for October 4th to 15th and head over to Plaza Universo de Fira Barcelona Montjuïc, conveniently located next to Plaza España, to immerse yourself in the festivities. For more detailed information, visit the Oktoberfest Barcelona website.
You can get all the information on their website, and you can book your table too! This way you don't have to wait in big lines to get your spot.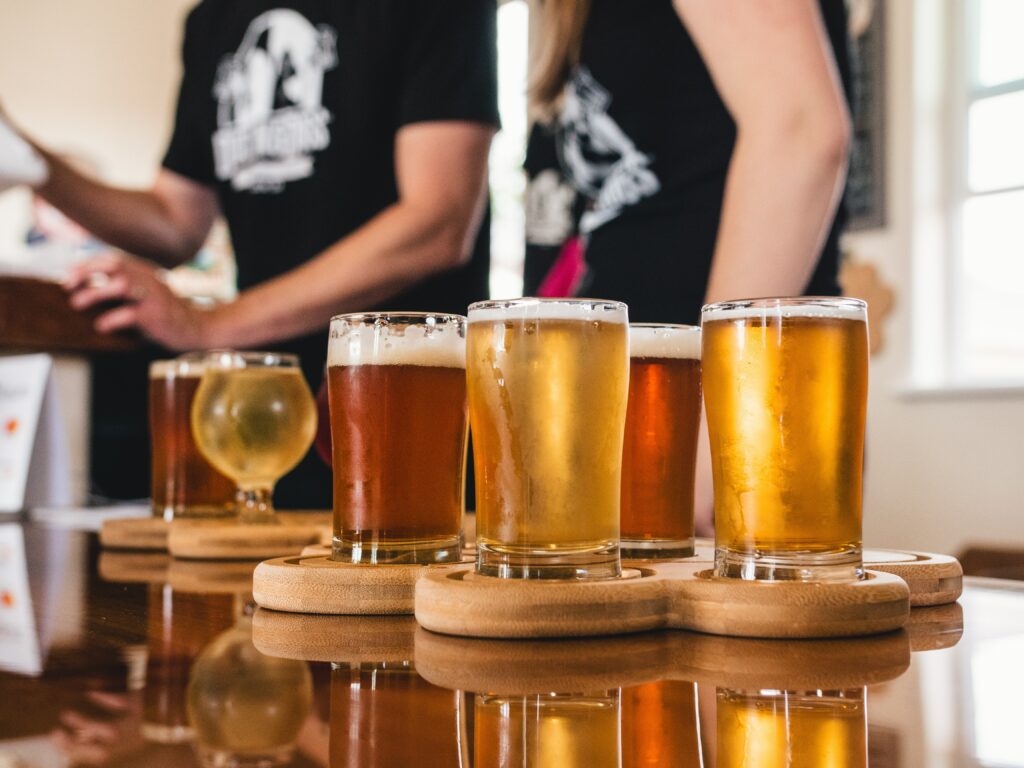 Celebrate on Les Rambles
Celebrate the Festa Major de la Rambla, honoring the patron saint of Barcelona's iconic boulevard, Mare de Déu del Roser. La Rambla, a picturesque tree-lined pedestrian thoroughfare that comprises several interconnected streets in the heart of Barcelona, serves as the vibrant backdrop for this event. It's a place where you'll discover monuments, gathering spots, bustling markets, museums, and a whole array of activities, many of which won't cost you a dime!
The festivities kick off on October 7th, but the celebration spills over to the days before and after, ensuring ample opportunities for everyone to partake. While La Rambla is often considered a tourist magnet, during its festivities, it regains a local, community-driven ambiance that's both inviting and engaging.
Join in the guided tours, attend workshops, groove to musical performances, and explore the myriad of scheduled activities, most of which are complimentary. One delightful aspect of these celebrations is their alignment with the beginning of the mushroom season, prompting numerous tastings (particularly in the renowned Boqueria Market) where you can savor mushrooms in various delectable dishes.
Interesting Details:
When: Celebrations span the days before and after October 7th.
Where: La Rambla
Price: Admission is free.
Recommended if: You're visiting Barcelona with children and seeking family-friendly entertainment that will please all ages.
Sitges Film Festival
When it comes to quick and rewarding day trips from Barcelona, Sitges reigns as one of our top recommendations. This picturesque coastal town is a gem you can explore any time of the year, but it truly comes alive in October, thanks to the Sitges Film Festival. This unique event is a haven for lovers of fantasy and horror films, showcasing the finest cinematic creations and honoring outstanding actors, filmmakers, and movies.
Even if you're not a die-hard horror movie enthusiast, a visit to Sitges during this festival is well worth it. Don't miss the intriguing Zombie Walk, where locals don their most gruesome costumes. To make your journey even more convenient, there's a dedicated shuttle train service from Barcelona to Sitges exclusively for the event. So, let's delve into the exciting world of Sitges in October, where film and fantasy take center stage.
When? Starting the 5th of October and finishing on Sunday 15th.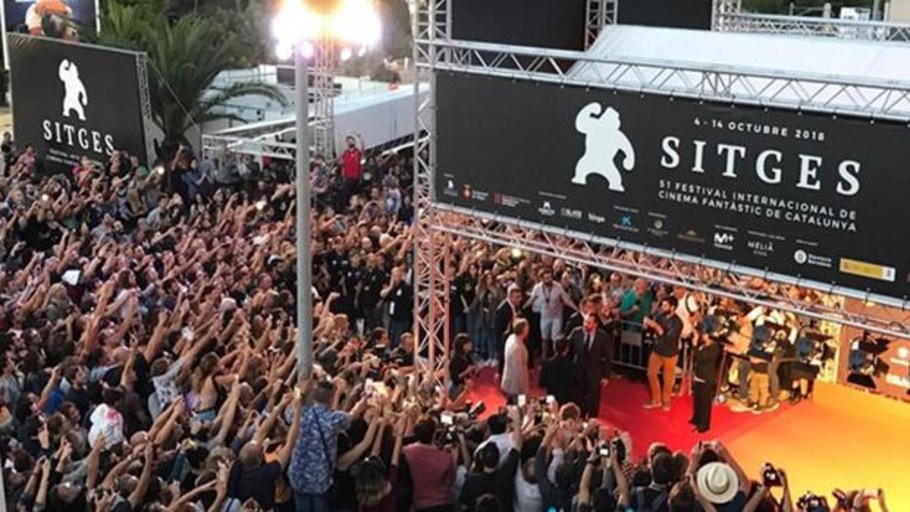 BAUM
You might find yourself taking a casual stroll through the streets of Barcelona in October, only to stumble upon a vibrant square teeming with people donning peculiar and captivating outfits. No need to be surprised; they're likely participants in one of the many exciting conventions held in the city this month.
First up, the BAUM Fest, is a celebration that delves deep into the realm of 'urban culture.' This event is a dynamic showcase featuring exhibitions on tattoos, breakdancing performances that defy gravity, and adrenaline-pumping extreme sports, to name just a few of the thrilling activities you can expect to encounter.
You can have access every day from 11 a.m. to 11 p.m., and you will have tons of activities to do! You can see the complete list of activities and buy your tickets here.
Voll-Damm Jazz Festival
Are you a fan of jazz music? If the answer is yes, then you're in for a treat this October with the commencement of the Voll-Damm Jazz Festival in Barcelona.
This eagerly anticipated event spans several weeks and showcases the talents of top-notch international musicians. They take to the grand stages and theaters sprinkled throughout the city, creating an unforgettable musical experience. Ticket prices may vary, but you can typically expect to pay around 20€. Keep a keen eye out for ticket availability as they tend to sell out quickly.
Boasting a legacy of over 50 successful editions, the Voll-Damm Jazz Festival has solidified its status as a premier event, attracting esteemed artists who are trailblazers in the world of jazz.
While most of the festival's stages are nestled within Barcelona, they are strategically located in venues of significant cultural importance, such as the renowned Sala Apolo, Sala BARTS, and even the prestigious Palau de la Música. Additionally, the festival extends its reach to the neighboring town of Sant Cugat, accessible in under an hour, where you can also enjoy outstanding performances.
Key Details:
When: Throughout the entire month of October.
Where: Various locations and stages across Barcelona.
Price: Approximately 20€ per ticket.
Recommended for: Jazz enthusiasts and live music aficionados.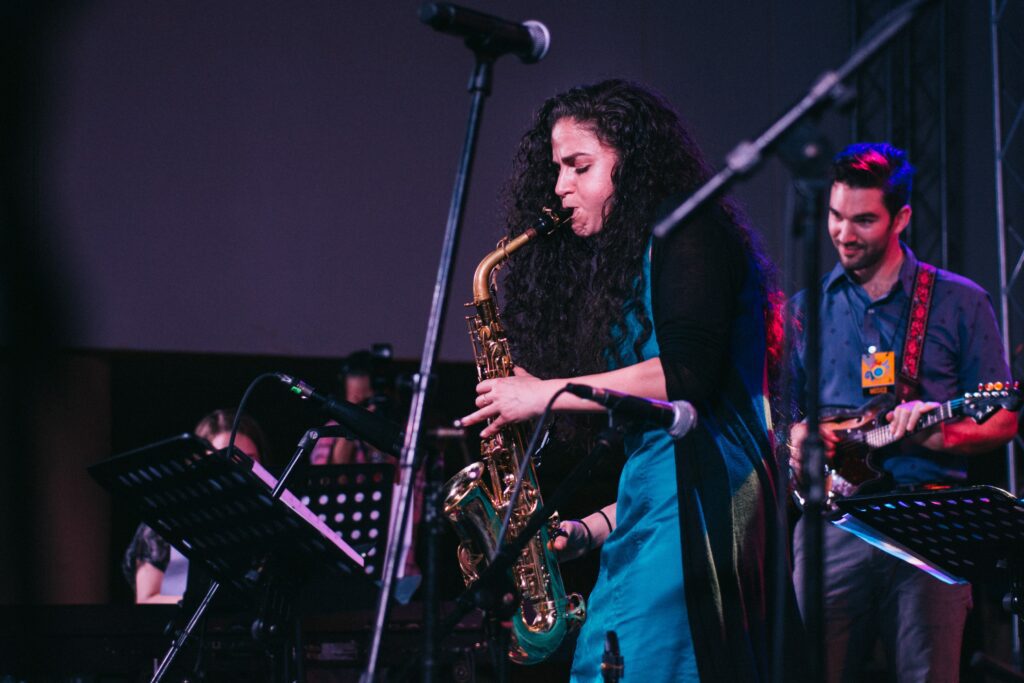 As the city's energy shifts with the season, October presents an opportunity to delve deeper into its cultural treasures and vibrant local life. So, pack your curiosity, your appetite for adventure, and your desire to immerse yourself in the heart of Catalonia's capital. Barcelona in October invites you to explore, indulge, and create lasting memories that will echo in your heart long after the month has passed.
We hope to see you soon at one of our destinations!
Thank you for reading so far and remember to follow us on social media to get weekly valuable content:
Instagram | LinkedIn | Spotify | Facebook | TikTok | Youtube
---
Latest Posts: